SHIRADI SAI BABA – A GREAT SEER OF INDIA
<![if !vml]>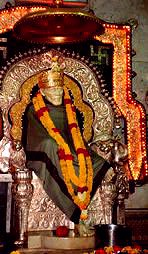 <![endif]>
Sai Baba of Shirdi or Shirdi Sai Baba (circa 1838 - October 15, 1918), (real name, birth place, and date of birth unknown), He was a born in a Brahmin family and was an Indian guru, yogi and fakir, who is regarded by his Hindu and Muslim followers as a saint. Some of his Hindu followers believe that he was an Avatar of Shiva, Dattatreya, a satguru and the next incarnation of Kabir.
In his life and teachings he tried to embrace and reconcile both faiths: Sai Baba lived in a mosque, was buried in a Hindu temple, embraced Hindu and Muslim practices, and taught using words and figures that drew from both traditions. One of his well known epigrams says of God: "Allah Malik" ("God is King [Lord]").
Sai Baba taught a moral code of love, forgiveness, helping others, charity, contentment, inner peace, devotion to God and guru. His philosophy was Advaita Vedanta and his teachings had elements both of this school as well as of bhakti and Islam.
Some disciples of Sai of Shirdi have received fame as spiritual figures and saints.
Sai Baba is also one of the most popular of Indian saints (worshipped mainly in Maharashtra, southern Gujarat and Andhra Pradesh) and revered by several notable Hindu, Sufi and Zoroastrian religious leaders.
Rising above religion, Shirdi Sai Baba, the Indian sage preached simple moral and spiritual laws. While his message appeals to many in this age of complexity, others take refuge in him because of his promise to help devotees in times of crisis

A fakir in a tattered kafni (long robe) who begged for alms till his last day. Who founded no religion or sect, developed no trademark spiritual philosophy or system of practices, started no movement, initiated not a single disciple, left behind no apostles. Who breathed his last eight long decades ago and about whom very few had heard till the 1960s.

Today, he has millions of devotees in India and other parts of the world. Shirdi, the obscure village in Ahmednagar district of Maharashtra, in India, has become a pilgrimage destination much as Bethlehem, Jerusalem or Varanasi. The number of pilgrims go there average 25,000 a day and can climb to over a hundred thousand on holidays and festival days. They belong to every strata of society and all religions, and include politicians, film stars and rich businessmen. By conservative estimates, there are over 2,000 major Sai temples in different parts of India and 150 abroad in places as far-flung as Canada and Kenya, Singapore and England.

Significantly, all these temples have been constructed and consecrated by local initiative. Indeed, the growing Sai phenomenon is not orchestrated by a central organization, though there is the Sri Sai Baba Sansthan, which manages the affairs at Shirdi.

The Shirdi phenomenon defies easy explanation. It perhaps owes itself to the will of Baba himself, who is considered an avatar of no less than the Almighty.

More specifically, he has been called an incarnation of Shiva and Dattatreya (the triune Brahma-Vishnu-Shiva deity worshipped in Maharashtra) and is said to appear to devotees as their deity: Jesus Christ, Rama or Krishna (Vitthala).

Scholars and devotees verily associate him with the Nath tradition of great yogis as well as poet-saints of the Bhakti movement, particularly Kabir, who decried ritualism and preached the transcendence of caste and creed differences.

In her Ph.D. thesis from the Toronto University, soon to be published as a book, Marianne Warren argues that Shirdi Sai Baba was an aulia, Sufi mystic and saint. Meher Baba, Sai Baba's contemporary based near Shirdi, had given him the Sufi honorific of Hazrat and placed him at the head of a spiritual hierarchy of five perfect masters on a spiritual mission.

Practically speaking, Sai Baba's appeal lies in the experiences of innumerable devotees that prayers to him yield tangible worldly results, as well as in the more esoteric areas of transformation of character and spiritual benefits. Yet, most people approached the Baba during his lifetime for material, not spiritual, gain. And Shubha Verma, a Hindi journalist-turned-Baba devotee, says it remains the case till date.

Baba's mission was, however, to restore belief in god. As he himself said: "I give people what they want in the hope that they will begin to want what I want to give them (knowledge of the Ultimate)."
Shirdi Sai Baba in the view of major world religions
Hinduism
During Sai Baba's life a Hindu saint - Anandanath of Yewala declared Sai Baba a "[spiritual] diamond".[29] Another saint - Gangagir called him a "[spiritual] jewel".[30] Sri Beedkar Maharaj greatly revered Sai Baba, and in 1873, when he met him he bestowed the title Jagatguru upon him.[31][32] Sai Baba was also greatly respected by Sri Vasudevananda Saraswati (known as Sri Tembye Swami).[33] Sai of Shirdi was also revered by a group of Shaivic yogis, to which he belonged, known as the Nath-Panchayat.[34]
Swami Kaleshwar publicly worships Sai Baba, and treats him as a great saint and his own guru.[35] Sathya Sai Baba considers him to be an Avatar and his previous reincarnation.[36]
Other religions
In Islamic culture the person of Sai Baba appears mainly in Sufism. Meher Baba declared Sai Baba a Qutub-e-Irshad - the best of the five Qutubs.[37]
Sai Baba is even worshipped by several Zoroastrian religious leaders. One of them is Nani Palkiwalla. Another notable Zoroastrian Sai devotee is Homi P. Dadi-Barjor (a scientist). Sai Baba of Shirdi is believed to be the non-Zoroastrian whose worship attracts most attention of the Zoroastrians.[38]
<![if !supportEmptyParas]> <![endif]>
Brief Life Story
Shirdi Sai Baba was born in Pathri village in Maharasthra State in 1835 or 1838, to a poor Hindu couple. The mother was a very pious woman who received a boon from a real-life vision of the Goddess Parvati and her consort Shiva. She was blessed to give birth to a divine child. His divine birth generated such effulgence and surge of dispassionate into his parents, they lost all interest in material life. The father intended to leave the family for his spiritual quest but his wife prepared to follow. In an extreme [and rather foolish] decision and probably much due to fate, the newborn was abandoned and left by the roadside. A childless Muslim Fakir and his wife found the child and took him home as their own. The fakir passed away in due time and the fakir's wife who had great affection for the child brought him up. Avataars are revolutionaries and always aware of their mission; the four year old child created an upstir in the community by praising Allah in the local Hindu temples and sing Hindi bhajans in mosques. One of Shirdi Sai Baba's main tasks was to unite the animosity that was common between the Hindu and Muslim community during his time. He would switch roles between being a Hindu and a Muslim on many occasions in his life, always causing discussions as to his real origin. Afraid of the consequences and not wanting to be dragged into disputes, after four years the child was handed over to a local philosopher in 1839 - Gopal Rao Deshmukh (Venkusa) - and was brought up under his care for 12 years. Venkusa was no ordinary person but a great saint.
Shirdi Baba stayed with Venkusa until the age of 16 and thereafter left to wander. He ended up in Shirdi village, where he began to live under a particular neem tree. According to some data Shirdi had claimed that his former guru (from a past birth) was burried under the tree. Baba had also told devotees much later in life that he had lived as the poet saint Kabir (15th century).
Shirdi Baba, who was officially nameless until the age of 20-21, suddenly disappeared from Shirdi for three years. He was brought back to Shirdi by Chandhubhai Patel in 1858 when Patel was searching for a missing horse belonging to him. Baba helped Patel to locate the horse through his supernatural abilities and Patel begged the Baba to accompany him to Shirdi. It is mainly from Patel's encounter with Shirdi Baba in 1858 onwards that the recorded reports contained in the Shri Sai Satcharitra begins while little is known of Shirdi Baba's life prior to that. In modern days there is often an impression given that the lives of saints like Shirdi Baba was always well received by the people. This is not fully true. Sri Shirdi Sai Baba was a temperamental personality and like so many saints throughout history he was viewed as rather 'mad' by his surrounding until he was more known. He lived as a very poor mendicant, often walking rounds begging for food and for oil to his singular small oil-lamp. He was often the source of pranks by those around him who were unable to see his true nature. Shirdi Sai Baba became accepted as a great saint on a broad scale after his mahasamadhi and particularly, after the Shri Sai Satcharita was compiled and the people began to hear stories of his greatness. His actual divine qualities were recognized by fairly few people during his own lifetime.
The Shri Sai Satcharita was compiled many years after Shirdi Sai Baba's passing (Mahasamadhi). According to Sathya Sai Baba some of the stories are slightly altered because by that time they were written down from memory. Many of the individuals who had contributed their stories to the Sai Satcharitra had forgotten finer details of dates and observations as they kept no diary.
Herein below you find the actual Satcharita in English chapter-wise:
<![if !supportEmptyParas]> <![endif]>
<![if !supportEmptyParas]> <![endif]>
<![if !supportEmptyParas]> <![endif]>
Note: This work is an electronic version of Shri Sai Satcharitra by Shri N.V.Gunaji which was adapted from the Original Marathi Book by Shri Hemadpant. (The book is titled in english Shri Sai Satcharitra where as the original work is Shri Sai Satcharita.)
---
<![if !supportEmptyParas]> <![endif]>
<![if !supportEmptyParas]> <![endif]>
Click here for Golden Words of Sai baba__________________
<![if !supportEmptyParas]> <![endif]>
_______________________The End___________________